The realtime dashboard allows you to analyze the audience data from your live events.
Access your dashboard
Log in to your Dailymotion account
Navigate to Partner HQ
Click on Analytics
Click on Live streams
Understand your metrics
Metrics are displayed on the top of the dashboard.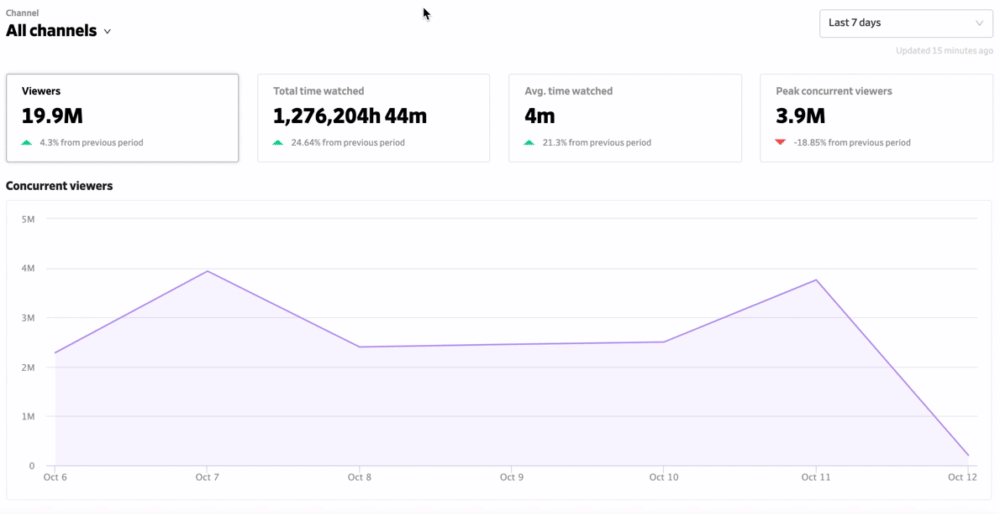 You can click a metric to view timeseries and breakdown for a selected metric. For example, you can click on Total time watched to view the time spent on your events by video, channel, countries...
| | |
| --- | --- |
| Metric | Description |
| Views | Total views made for the selected time range by your audience |
| Total time watched | Total time spent by your audience |
| Average time watched | Average time spent per viewer |
| Peak concurrent viewers | Maximum number of concurrent viewers for the selected period |
Understand your dimensions
Selected metric is broken down across dimensions and in general shows Top 6 items for each dimension.
Example: If Views is selected, in Top live streams panel, you will see Top 6 live streams generating the highest views for the selected time period.


| | |
| --- | --- |
| Dimension | Description |
| Live stream | Top live streams for the selected metric |
| Channels | Top channels for the selected metric |
| Countries | Top countries for the selected metric |
| Devices | Top device used by your audience |
| Domains | Top. domains or native applications for the selected metric |
You can click on 'View more' to view additional items for the selected metric and dimension.
Analytics for a single video
There are two ways to access performance analytics for a live stream video
From Media Manager
Log in to your Dailymotion account
Navigate to Partner HQ and reach the Media section
Select the Live streams section
For a live stream in the list, click the three dots (...)
Click Analytics
From the Overview Dashboard
Log in to your Dailymotion account
Navigate to the Partner HQ and click on Analytics.
Select the Live stream dashboard
Click All channels / All videos dropdown filter on the top left
Click Videos
Search by video title. If found, click on the video title
Technical specifications
Data latency
Latest data is displayed for a view made 15mins ago
Data update frequency
Data is updated every 15 mins
Supported granularities

Per minutes, when time range is < 12 hours
Per hour, when time range is > 12 hours and < 48 hours
Per day, when time range is > 48 hours and < 90 days
Per month, when time range is > 90 days

Supported timezones

Per minute or hour data are shown in your local timezone
Per day or month, date are shown in UTC timezone