If you have a Youtube video catalog that you would like to bring to Dailymotion, you can do this using Google Takeout. To begin the process, follow the steps below. 


Language settings
Before you begin the process, please ensure that your Google Takeout account language is set to English. You can do this by visiting https://myaccount.google.com/language
If you don't have a Google Brand account
Select the channel for which you want to perform the migration in the top right of your screen
Click on All YT data included, select only "videos," and click on "Next step"
Select one of the cloud storage solutions offered
In File type and size, pick "50GB" to reduce the number of folders that will be created
Click on "create archive"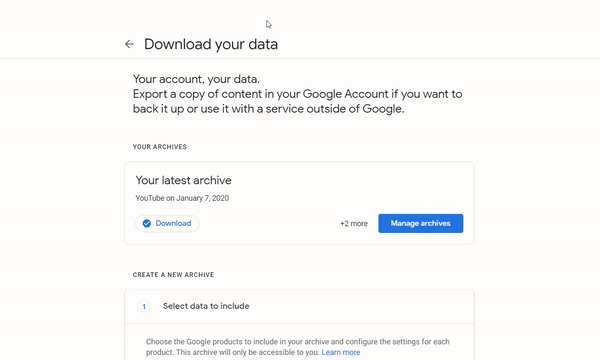 If you have a Google Brand Account
Follow all of the steps listed in the section above 
In the Google Takeout interface, click on the  "Download" button next to the Archive and save under your Dropbox or Box desktop app in a specific folder
Repeat for as many archive folders as you have
Final Steps
Once the final download is complete, please send the link to the appropriate storage folder to your account manager and Dailymotion will perform the migration of the videos to your channel.
Alternatively, you can upload manually in the Partner HQ to add the content to your Dailymotion channel. 
Single migration
Please keep in mind that this process supports a single migration of your video catalog, and is not intended to be a recurring transfer.