Prerequisites
Make sure you subscribed to the Dailymotion plan feature Live Streaming
Reach out to your assigned Account Manager or our Support Team to subscribe and set it up on your account
Check our dedicated guides about Live streaming to get you started and set up your Live event ready for simulcasting
Stream on multiple platforms via Restream
As a Dailymotion Partner, you can livestream your content to multiple platforms in one go through our partnership with restream.io, a simulcasting company. This enables optimized and hyper distribution of your content throughout your social channels.
All you have to do is to connect your Dailymotion account on your Restream account through the following steps:
Visit Restream.io website and create an account.
Once you're logged in, you will have to add your first channel by click on Add Channel





You can pick from a range of platforms. Look for Dailymotion and click on the logo.
Click on Connect Dailymotion






Input your login credentials.

Grant the access and manage videos permission to restream.io service.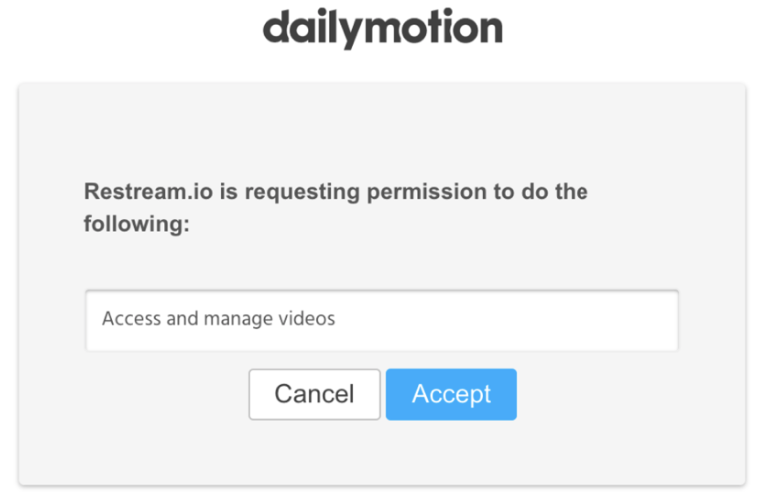 Congratulations! You can now set up and livestream from Restream on your Dailymotion channel as well as on multiple other platforms!
You can visit Restream Help Center if you would like to find out more about how you can customise your Dailymotion livestream from the interface, or learn more about their product and plans for content owners.