This feature allows you to add your channel's videos automatically to your playlist based on video metadata filters, such as tags, video category, upload dates, language, etc. You can define automatic playlist settings when you create a new playlist or when editing an existing playlist.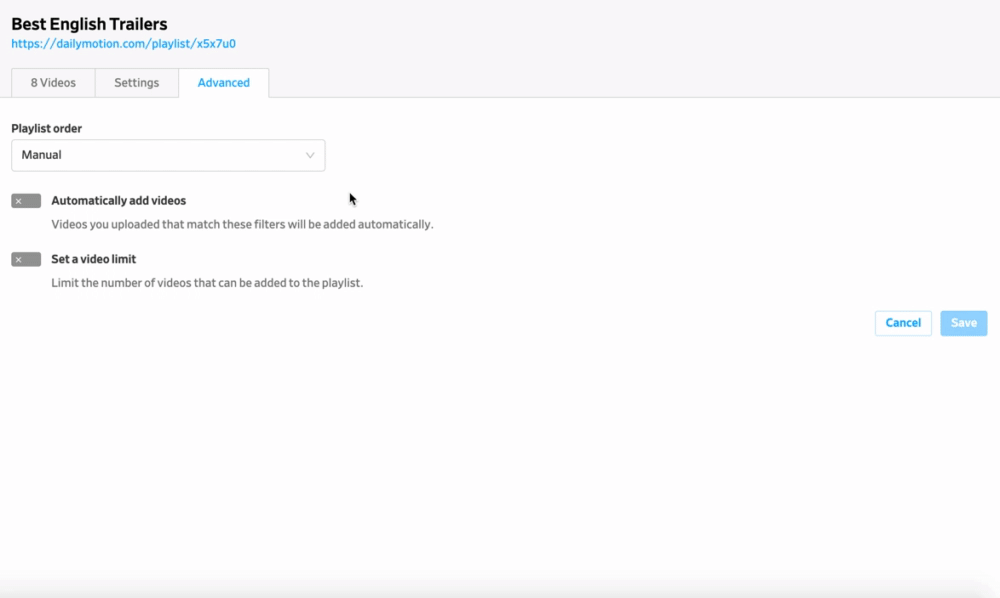 How can I automatically add videos to a playlist?
Create Playlist or Edit an existing one
Go to the Advanced tab on your playlist settings
Activate the Automatically add videos option
Select the type of metadata you want to use to populate your playlist in the Select filter dropdown
Once selected, click on Add filter and specify the rule (you can add multiple filters to one playlist)
Set up a playlist limit if you want to restrict the maximum number of videos in your playlist
Click on Create or Save depending our the flow.
Videos fitting all of these rules will be automatically added to your playlist.
Please note that only the videos uploaded in your account will be added automatically to your playlist. You can add videos from third party channels manually, by clicking on Add to playlist on the video page.
About filter configuration
Tags
You can define up to 10 tags for a playlist, which will include videos that have at least one or all of those tags
Upload date
If you don't enter an upload date, all matching videos from your channel (previously uploaded and future videos) will be added to your playlist.
If you enter a start and/or end date, only matching videos uploaded during that date range will be added to the playlist
Category
You can define up to 10 categories for a playlist, and the playlist will include the videos from all the categories listed.
Language
You can define up to 10 languages for a playlist, and the playlist will include the videos in all of the languages listed.
Live or VOD
You can choose to filter the videos added to your playlist based on their video type.
Playlist behavior in case of filters & metadata modification
Editing a video with matching metadata to your playlist rules will add the video to your playlist automatically.
Removing a metadata from the playlist / video won't delete the video from your playlist. If you want to remove a video from your playlist, you'll have to do it manually.