You can find below a detailed description of all the features from the Record panel of your live dashboard.
Dailymotion enables you to record a live stream and create a video out of it. The recorded video will be available at the end of the live event as a VoD on Dailymotion.
You can set up a manual record ( start/ stop record) and activate an auto-record. The recorded video inherits metadata from the current live (title, language, tags, category, private, geoblocking)
The recorded video quality is always the best quality available and never the source.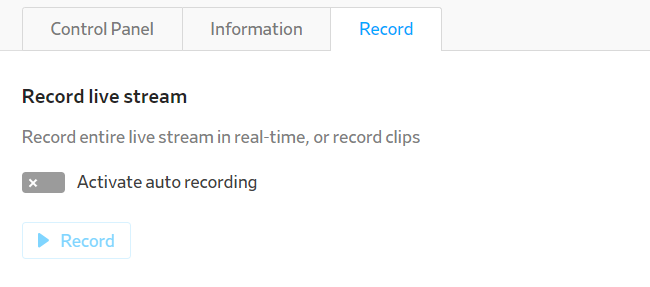 Enable auto-record
This will allow you to enable an automatic recording of your live stream. When the button is switched on (green color):
If the live is offline, the recording will start as soon as the live is on

If the live is online, the recording will start from the moment you activated the button
When the live is over, no need to deactivate the button!
Auto-record is based on live status. The recording will continue for 3 minutes to check if the live is really over, or if there is a small interruption. In case of interruption, the recording will continue if the live is back on within 3 minutes. After 3 minutes, if the live is still offline, a video will be generated from the recording.
Basically, when a live becomes onAir then auto-record starts, when a live goes OffAir the auto-record stops. In addition to that, you can validate an auto-record for up to 30 days.
Note that the recording is automatically in private status.
Start record
This button allows you to manually record your live.
You can auto-record and launch a manual recording at the same time
When you click on "Start record", a timer will appear on the right-side of the button
When you are done, click on "Stop record", a video will be generated a short time later
The maximum duration allowed for a live recording is 10 hours. So immediately after 10 hours, the recording is started again, into a new recording entity.
The minimum duration allowed for a live recording is 30 seconds. If the recorded video is below the minimum duration, the recording will be removed and no video will be created.
.