Availability
Streaming Live is a plan feature
Please reach out to your assigned Account Manager or our Support Team to subscribe and set up the feature on your account
Each of your live streams has a dedicated dashboard accessible from your Dailymotion Studio.
In this article, you will find a detailed description of all the features available in the Settings section of your live dashboard.


Settings overview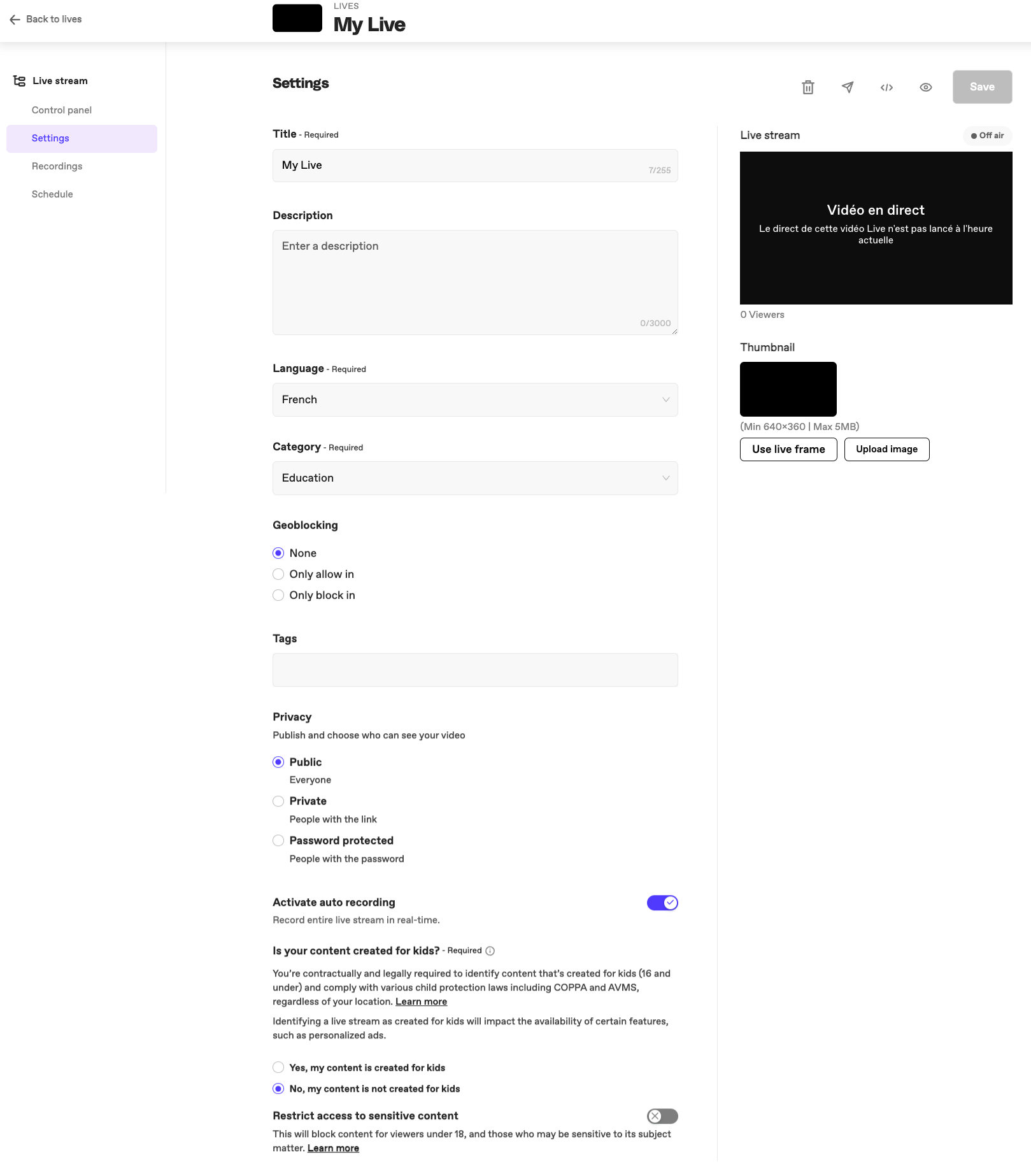 Features details
General information
Modify your live stream general information:
Title

Description

Language

Category

Tags
Thumbnail
Choose the thumbnail image to illustrate your live.
You can choose between:
Use live frame
Upload image
Geoblocking
Geoblocking allows you to define specific geoblocking rules for your live stream:
None: Your live can be viewed everywhere in the world
Only allow in: Your live can only be viewed in the specified countries
Only block in: Your live will not be available in the specified countries
Privacy
Just like any other video, you can choose the privacy of your live stream:
Public: it will appear on your channel, and everyone can watch it
Private: only the viewers with the private link will be able to watch it, or if you embed the live on your website
Password-protected: users will need a password to access the viewing
Activate auto recording
You can automatically record a live stream and create a video out of it.
Auto recording is based on your live status:
When the live is on air: the auto recording starts as soon as the live is on
When the live is offline: no need to deactivate the button, the recording will stop automatically. It continues for 3 minutes in order to check if the live is really over, or if there is just an interruption. In case of an interruption, the recording continues if the live is back on within 3 minutes. After 3 minutes, if the live is still offline, the record stops and a video is generated from it.
Recordings specifications:
The recording is available at the end of the live event as draft in the Recordings section and in Medias > Videos
It inherits the metadata from the current live (title, language, tags, category, private, geoblocking)
The quality is always the best quality available during the live, never the source
The maximum duration allowed for a live recording is 10 hours. When reaching 10 hours, the current recording stops and is saved, and a new one automatically starts.
The minimum duration allowed for a live recording is 30 seconds. Below this, the recording is automatically deleted.


If you prefer setting up a
manual recording
, please check the
Recordings article
where the feature is described.
Is your content created for kids?
Restrict access to sensitive content
Learn more about the other sections of your live dashboard: